My counseling psychology Master's Degree program required 100 hours of personal therapy, and I found a Jungian analyst nearby. We held sessions in her home's comfortable den, adorned with paintings, sculptures and two tall oak bookcases. She was a petite older woman, casually-dressed with pure white hair and a faint European accent. She relaxed into her oversized patient leather chair and smiled like I was an old friend there to visit.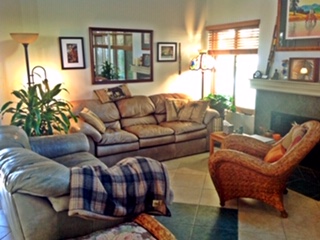 A cool ocean breeze blew in through the French doors that opened to a garden patio, and the trepidation I'd had about serious analysis simply vanished. She and her lovely room were a safe container and reminded me of Dr. Carl Jung saying the human relationship between analyst and analysand is what matters most, not credentials.
I decided immediately to use my home for therapy, too. I had looked at office spaces for rent, but the idea of asphalt parking lots, impersonal hallways and a sense of not being at home felt just too clinical. I didn't want people to feel they were coming to a place where some magical healers would "fix" them.
Since that day in 2003, my own leather couches, tall-back Texas rocking chairs and therapy dog Ringo have helped my patients drop their defenses and relax. There's no parking lot, just a street and my house. There's no hallway, just a Spanish tile entryway with ferns and camellias. There's no elevator, just a warm fireplace. I wear Levi's and Tommy Bahamas, no ties.
Home is where you felt safe as a child or hoped to. Home is where I serve as a confidante with whom you feel safe sharing from deep inside. I never pretend to know more about you than you do about yourself. I simply ask you what has happened. Then I sit back and listen. I never make a clinical diagnosis, but instead, share what I know about mindfulness and the complexion of the human soul. Call me a Buddhist, Jungian, existentialist counselor, meditation teacher or whatever, but I do know that whatever symptoms you think you have, you also have their unconscious solutions waiting to be revealed.
We talk about those solutions. We talk about what's right with you, not what's wrong. In fact, when you feel at home, it's almost impossible to feel like anything's really wrong with you.
Home is where you escape to when the world outside gets too big.